On June 11 2008, Multiplied Media (Symbol: TSX-V:MMC) announced the release of the beta version of Poynt for the Blackberry handheld devices.
For those that are unfamiliar with Poynt, it's a local search service currently for North America (agreements have been signed with t-info of Germany and Infobel which covers over 30 European countries) and is available on MSN ([email protected]) and on AIM (Poynt).
Getting Started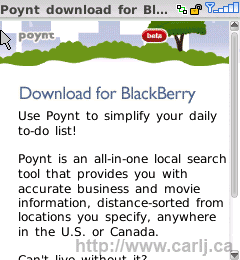 To get Poynt onto your Blackberry, you will first need to go to http://m.mypoynt.com/. There, you will receive a brief introduction to Poynt, and at the bottom, you will find the "OMG Download it!" (there's got to be some sort of dirty funny joke behind that) link to download the application to your Blackberry.
Once you've successfully downloaded and installed the application, you will then find it some where among all of your other applications and games.
When you open up the application, your greeted with a brief Poynt splash screen (is it just me, or does that slogan sound awfully familiar?), before being taken to the simple but stylish main screen. In the upper left it says "poynt", in the middle it might say "My GPS Location", which is the name of location that the Poynt service is currently Poynting to. Next to that, you will see either a red or green light. If red, then you either don't have a GPS in your BB, or you do, but it's not on. If green, then you're good to go. If it's red, don't worry. They give you the option to save and use locations.
In the middle of the screen you will see three icons. The first icon is for "Yellow Pages, next is Movies, and lastly, Directions.
Under those three icons you will see a "Send Poynt to a Friend", which I'm sure is pretty self explanatory.
Yellow Pages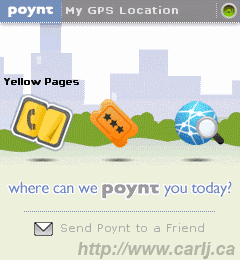 So, you want to look for businesses local to you to get either some pizza, flowers, or even a pair of pants to replace the ones you ripped at work? Well this is where you want to go then.
Roll that little ball around on your BB until the Yellow Pages icon does a little twitch, and has the word "Yellow Pages" written above it. Now, click on it.
If you want to find something close to you, type it in and click on that ball thingie again, and VOILA! You are now presented with a list of results, local to where you currently are, or local to the location that you are using.
From here you can bring up a menu for any of the results, where you may be given the option to Call or Browse Website. Under those options you are given three more useful options: Map Route, Map Listing and Map All. Map Route will show you directions on a map from where you are now, to the location of the result. Map Listing shows you the result on a map, while Map All shows all listings on a map.
Movies
Next up, Movies. So you want to go out to the movies, but you're not sure what's playing where, what's good, where the closest theatre is to you, or you don't want to wait in line like most other people and want to buy your ticket online? If so, then this is where you want to be.
The Movie section is broken up into 6 sections: Movies Near Me, Theaters Near Me, Top 10, Movie Genres, Movie Title and Theater Name.
Movies Near Me displays all movies that are playing in theaters near your current location. For each of the movies that are found, you're given the options to either find all theaters playing that movie, see the movie details, or read reviews.
Theaters Near Me, is a lot like Movies Near Me, except that it displays theaters instead of movies. For each theater displayed, you can see the list of movies that are playing there, see the theater details, map the route from your current location to that theater, show that theater on a map, or show all theaters on a map.
Top 10 show you well, the Top 10 movies. I'm not too sure if this is Top 10 movies in your area, province/state, in Canada or the US, or overall. Again, just like Movies Near Me, you can see the theaters that each movie is playing at, see the movie details, or read its reviews.
Movie Genres categorizes the movies by Genre. Again, you get the theaters that the movie is playing at, can see the movie details, and read the reviews.
Movie Title allows you to search for movies. I wanted to find the new Adam Sandler movie and entered in "Zohaun". The search returned one result, "You Don't Mess With the Zohan". Even though I misspelled Zohan, it returned what I was looking for.
Lastly, we come to Theater Name. Bet you can't guess what this feature does. I know that there is a Galaxy Cinema near my place, so I wanted to do a search for it and typed in "Galixy" by mistake. The service came back with a list of results all containing "Galaxy" it their name. However, the first result was in Las Vegas, the second for Carson City, the third is in Monroe Washington. The one that I was looking for was the 10th result listed. Why it returned Las Vegas and Washington is kind of weird. However, again it was able to find results even though I misspelled "Galaxy". Whoever did this, should get a promotion.
Directions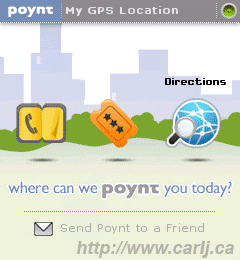 We now come to the third and final section of the Poynt local search service, Directions.
Here, you're given two options: Map My Search Location and Get Directions.
The first option just displays the location that you are using on a map. The only problem I have with this feature, is that it's zoomed in too close. I had to zoom out a bit to see anything around me.
The second option lets you specify a starting point (default is your current location) and a destination. For both of these, you're given a drop down to choose from a location that you have already saved, or you can search for a location and use that.
Once you click on the View Directions button, the driving directions are retrieved and then then shown on a list. There's also a View On Map option.
Conclusion
The only things so far that I had a problem with are:
– Removing saved locations.
– The map in Map My Search Location is zoomed in too much. You need to zoom out quite a bit to see where you are.
– The search by Theater Name is a bit wonky. Like I mentioned above, results returned were from Vegas, Carson City, Monroe Washington, and the closest theater to me was listed at #10. I wouldn't consider these to be local results.
Besides that, I would give it 4.5 out of 5 Orange Hockey Balls (not the cheap ones of course).
So if you have a BB, what are you waiting for? OMG Go download it!