Welcome to my first ever "Free App du Jour" post, which hopefully will become one of many. The "Free App du Jour" posts are simple posts that spotlight a free application that you probably haven't heard of yet, but will most likely (or hopefully will) find useful. So you won't find application such as Firefox, Opera, MySQL, all of the Visual Studio Expresses and SQL Server Express here, since there are pretty well known, and enough people have written about them.
So without further ado …
ASPhere
Version: 1.3.0
Homepage: http://asphere.aspweb.cz
Author: Tomas Bambuch
If you really enjoy manually configuring Asp.net web config files, you're a sick person, and should should seek some immediate medical help.
For those of you who wish that there was a better way than Visual Studio to edit the web config files, then this cool tool might be for you.
ASPhere (is it pronounced "AS Phere" or "ASP here"?) is a simple, free (as the title says) tool that allows you to edit, configure, modify, manipulate (or some other adjective of your choosing) web config files through a better-than-a-text-editor Web 2.0ish interface.
Can't remember the name of a specific node, it's attributes or options, or exactly where it is? No problem, ASPhere provides a tree view with all of the possible configuration settings for 1.0, 1.1 and 2.0 (the default).
About ASPhere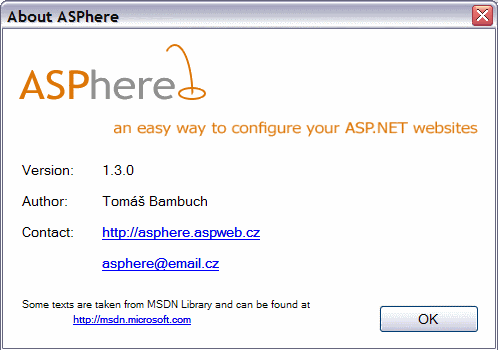 Visual Editor – connectionString
Here's an image of ASPhere after a connectionstring has been added. ASPhere displays each node of the XML document in a "bubble", which I personally find to be a bit annoying.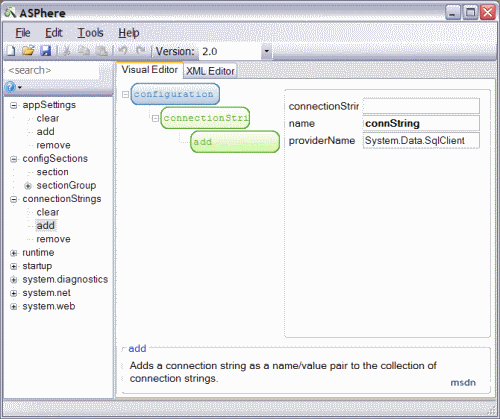 XML Editor – connectionString
Here's the XML Editor view of what's above.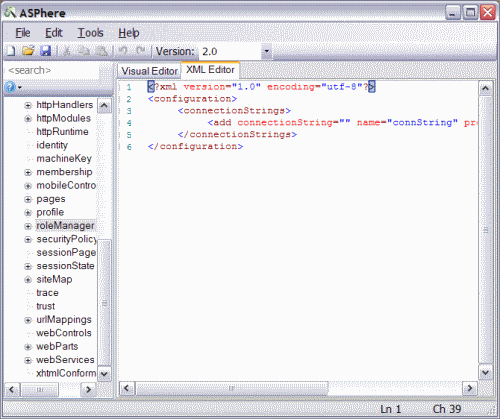 Visual Editor – mailSettings
Here's what ASPhere looks like when you add mailSettings to your config file. Notice the properties pane on the right hand side which allows you edit each property, and where appropriate, will give you a drop down (defaultCredentials) with valid values.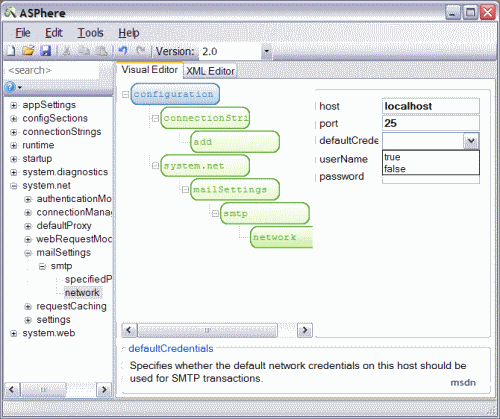 XML Editor – mailSettings
And here again is the XML Editor view of the above image.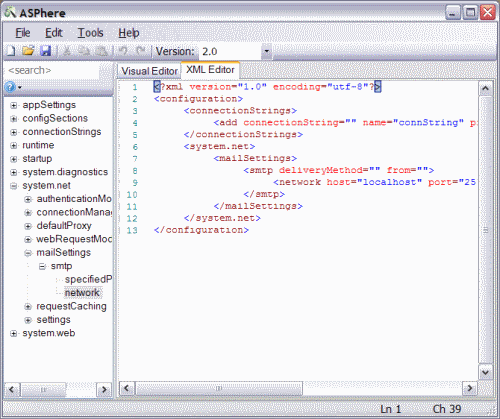 Visual Editor – Element not Supported
ASPhere allows you to edit web config files for different versions of ASP.Net. Notice how the nodes change colour when it's not valid for that version.
Settings – Visual Editor
Here's the Visual Editor Settings tab, which allows you to change some of the look and feel for the bubbles. Unfortunately, there's no way to disable the bubble.
Settings – XML Editor
Here's what the XML Editor Settings tab looks like. These settings change the fonts and colours for the text while in the XML Editor tab.
Search
Can't find what you're looking for in the tree view? Then use the simple search box, which will narrow down the results as you type. This could use a bit of an improvement, and instead of showing the root node collapsed, it would be nice if the nodes from the root to the match were expanded.
The left side shows how the results are displayed when found, and the right side shows the results when manually expanded.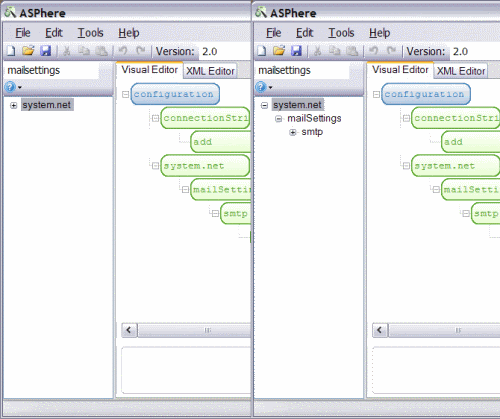 Other than the bubbles, and how the search results are displayed, I think that this is a great little time saving utility, and would recommend it to anyone who is sick of manually editing web config files.
Rating: 8.5/10