15+ Free Visual Studio Add-Ins (Part 1) was such a hit, that I've decided to use the feedback (and Google) to create Part 2 of the list.
The same rules apply to this list.
It must be free.
It must run from within Visual Studio 2005.
If I'm missing a FREE must have add-in, I'd love to hear about it.
If you like this post, please
ASPX Edit Helper Add-In For Visual Studio
Version: 0.01
Developer: Derek Hatchard (Ardent Development)
Download: http://www.ardentdev.com/blog/index.php/aspxedithelper
Do you work in the Html Source View a lot? Do you ever wonder why runat="server" is never automatically filled in to an ASP.Net web control, even though you can't build without it? Have you ever wished that you could add a web control the same way you can create a for or foreach with "TAB + TAB"?
If you answered "Yes" to any one of these questions, then I have the Add-in just for you!
ASPX Edit Helper Add-In is a handy little time saving add-in that enhances the auto-complete in Source view, by providing the runat="server" and id="<something>" to your web controls.
ASPX Edit Helper Add-In provides two different ways to quickly add a control.
Usage #1: If you type part of the control, such as <asp:textbox, and press ENTER (you might need to press it twice, the first time to fill out the control name), the add-in will auto-complete the control by filling in the runat="server" and id="<something>", where "<something>" is the name of the control, prefixed with asp_ and a random number added to the end.
Usage #2: The add-in has short codes (which can be added or modified in AspxEditHelperSnippets.xml) such as /lbl, /btn, /tbl, /a, /img, /imgbtn, /list and /rad, which when typed and then followed by ENTER, will auto-complete similar to above.
BlackBerry Plug-in
Version: 1.0
Developer: Research In Motion (RIM)
Download: http://na.blackberry.com/…/downloads/mvsplugin.jsp
A few months ago, Research In Motion released the BlackBerry Plug-in for Visual Studio 2005, which as you might of guessed, allows you to use your .Net skills to create wireless applications for the BlackBerry.
Could this be a blow to Java?
I first tried to run it on Windows 2000 in Virtual PC, and ended up getting a "The ordinal 12 could not be located in the dynamic link library DSOUND.dll." If you receive this error, make sure that DirectX 9 or above is installed.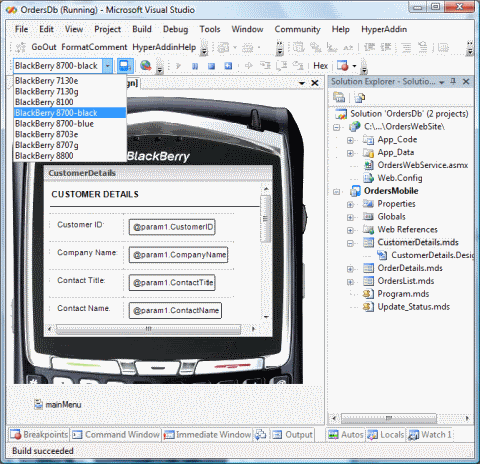 BlogMyCode VS2005 Plugin
Version: 1.0
Developer: Tamir Khason
Download: http://gallery.live.com
This add-in allows you to blog your code, from within Visual Studio. All that you need to do is highlight your code, right click, and select "Blog This". This will bring up a small window where you can enter in a Post Title and Snippet description. Once you click on the Post button, BlogMyCode will attempt to open up Windows Live Writer and create a new post with your code.
I say attempt because I ended up getting an error the first time I tried it. I had to change a setting in Windows Live Writer to allow for multiple windows.
At first when I heard about this plugin, I thought it would be great, since I've been having problems with some other "source code to HTML" add-ins for Live Writer. Unlike other tools that I've used, this one creates a new post for each "Blog This" that you do, so creating multiple snippets of code in your post is more of a PITA.
Clipboard Manager
Version: 1.0.0.7
Developer: Bobby DeRosa
Download: http://www.csharper.net/…
Clipboard Manager is a simple, but useful add-in that displays your last 10 (this can be changed) clipboard entries.
One thing to note if you decide to try this add-in out, is that the default shortcut for it is CTRL + ALT + v, which for me didn't work. To change the shortcut, go into Tools > Options and then expand Environment (if it's not there, click on the "Show all settings" checkbox), go down and click on Keyboard, then on the right side enter "DisplayClipboardPopupList" in the "Show commands containing:" textbox.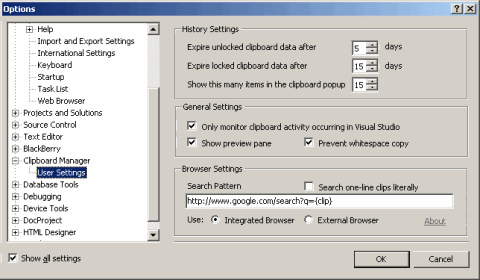 CSS Properties Window
Version: n/a
Developer: Ben Constable & Barry Tang
Download: http://www.asp.net/downloads/sandbox/css-properties-window/
For those of you that do a lot of CSSing, but won't be switching to Visual Studio 2008 for a while, this add-in might be for you.
CSS Properties Window combines in-line styles, styles from <style> blocks and linked style sheets, and displays them all as a tree view in a properties window. Each style from the in-line styles and styles in linked style sheets can be edited, with each property having a drop down with valid values.
There are two parts of this add-in that could use a bit of an improvement. First off, you have to be in design view to get the CSS Properties window. Secondly, the drop-down lists of styles and style settings are based on Internet Explorer 6.0 CSS property names and values. Booooooooooooo!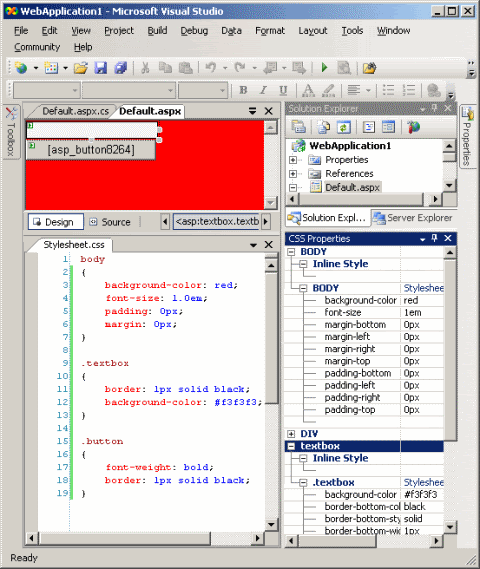 Data Debugger Visualizer
Version: n/a
Developer: dotnetdan
Submitted By: LosManos
Download: http://www.codeproject.com/csharp/datadebuggervisualizer.asp
Data Debugger Visualizer is a Visualize Data while Debugging (bet you didn't guess that from the title). With it, you can look at (or "visualize") DataSets, strongly typed DataSets, DataTables, DataViews, DataRows and DataColumns.
From quickly looking it over, this looks to be a must have add-in for most developers.
To install it, you need to download the source and do a build, which will automatically copy the dll file over to the right directory.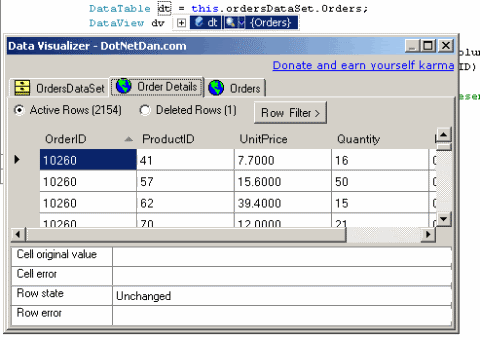 Resource Refactoring Tool
Version: 1.0
Developer: n/a
Submitted By: nuwanda
Download: http://www.codeplex.com/ResourceRefactoring
Resource Refactoring Tool is an add-in that gives you an easier way of extracting hard coded string from your code and placing them in resource files.
Unfortunately, I wasn't able to get this to work for a web project, which for me, would be more useful.

The Code Project Browser
Version: n/a
Developer: SlickEdit
Download: http://www.codeproject.com/csharp/cpbrowser.asp
Here's another add-in with a name that makes you guess what it does. The Code Project Browser, if you couldn't figure it out, is an add-in that let's you browse The Code Project from within Visual Studio.
For those of you who frequent Code Project, I suggest that you check this out. Not only can you browse the site from within Visual Studio, it will also let you save your favourite pages (picture #2), as well as let you keep track of the projects that you downloaded from the site (picture #3).
To use this add-in you must have an account with The Code Project.
One "small" problem that I have with it, is every page that I go to will throw a Script Error window at me, which I don't get when browsing The Code Project in IE.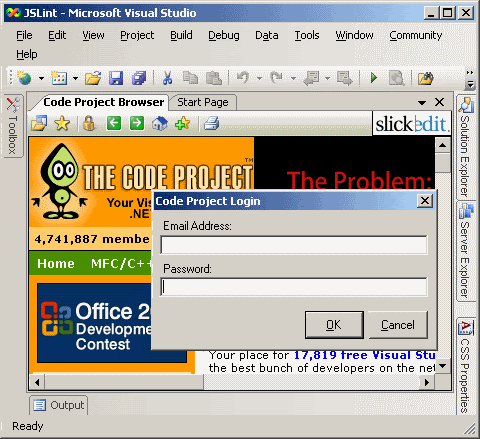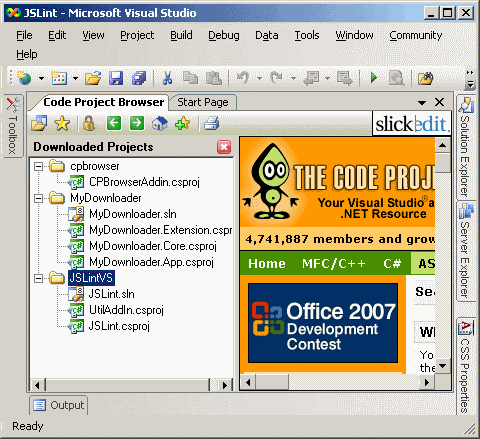 Other Add-ins …
Here are some more add-ins that for some reason I wasn't able to test (either because I was missing something (such as the Oracle DB), or I couldn't get it to work for one reason or another (most likely my computer)).
Array Debug View: The ArrayDebugView-Add-In adds graphical view capabilities to the debugger of VC6, VS.NET(2003) or VS2005. (Only C/C++-debugging is supported.)
Oracle Developer Tools for Visual Studio: The Oracle Developer Tools for Visual Studio (ODT) is a tightly integrated "Add-in" for Microsoft Visual Studio. ODT is free and it is available for Visual Studio 2008 (beta 2), Visual Studio 2005, and Visual Studio .NET 2003.
Because I don't have a version of the Oracle DB installed, I was unable to test it out.
TestDriven.Net: TestDriven.NET makes it easy to run unit tests with a single click, anywhere in your Visual Studio solutions. It supports all versions of Microsoft Visual Studio and it integrates with the best .NET development tools.
DocProject for Sandcastle: DocProject drives the Sandcastle help generation tools using the power of Visual Studio 2005/2008 and MSBuild. Choose from various project templates that build compiled help version 1.x or 2.x for all project references. DocProject facilitates the administration and development of project documentation with Sandcastle, allowing you to use the integrated tools of Visual Studio to customize Sandcastle's output.
Visual Studio 2005 Cache Visualizer: A visualizer to view ASP.NET's cache in a Visual Studio Watch window.
Spell checker for HTML and ASP.NET: multilanguage edition: Looks like a really useful tool, however I was unable to test it out because you need to install Microsoft Office 2003 Proofing Tools or an appropriate Office 2007 Language Pack.
Web Service Contract First: WSCF offers a simple yet powerful WSDL Wizard that abstracts away all the nitty-gritty details of WSDL and therefore does not give room for making errors and wrong assumptions just by trying to use and applying everything that can be done stated by the original WSDL specification
CoolCommands 4: For a great description on what CoolCommands does, check out this blog post.